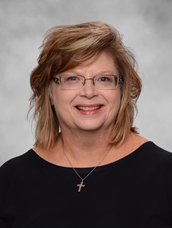 Jennifer Everette
1st Grade Teacher
I received my Bachelor's Degree from Illinois State University in Elementary Education.
I grew up in catholic schools. I attended three grade schools: St. Joan of Arc, Boca Raton, Florida, Queen of Mercy, Montgomery, Alabama, and St Anne's (graduated 8th grade) Columbus, Georgia. I attended two catholic high schools: Pacelli, Columbus, Georgia and graduated from Academy of Our Lady/Spalding Institute, Peoria, Illinois.
I currently live in Northwest Peoria with my pug – Wrigley. I spend most of my free time watching my nephews in their many sport activities. I love spending time with my family.
One of the best things about my life is that I am able to do what I love – which is to teach in a catholic school. Ever since I was a little girl I wanted to be a teacher. I love helping children learn and grow!